Mussels Mariniere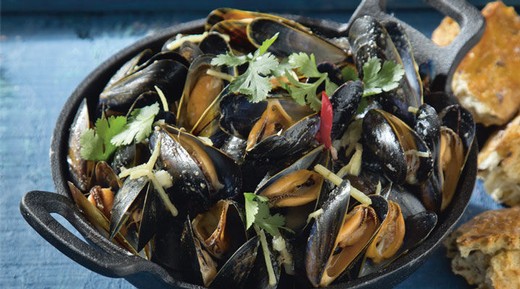 Recipe Date:
January 11, 2019
Measurements:
Imperial (US)
Ingredients
4 lbs mussels, washed and debearded
1 cup dry white wine
1/4 cup finely chopped shallots
1/2 tsp dry thyme, crushed
2 garlic cloves, crushed
1 pinch cayenne pepper
1/4 cup olive oil
3/4 cup heavy cream
2 tbsps fresh parsley, chopped fine
salt if needed(mussels will be salty)
warm rustic baguette
Directions
Suggested Pairing - Glunz Family Winery Zinfandel
Discard any broken of open mussels. Do not keep them in water or a sealed plastic bag, as they will suffocate.
In a large frying pan with lid, combine wine, shallots, thyme, garlic, cayenne pepper and olive oil. Simmer, reducing liquid slightly. Increase heat to boil, then add the cream until liquid thickens.
Add mussels, at high heat, stirring and coat them with the liquid. Cover for 30-40 seconds and stir them again. Repeat this for a total of 3-4 minutes. When mussels are open they are done.
Taste the sauce and adjust salt if necessary, then sprinkle with parsley. Discard any mussels that did not open.
Serve in a heated bowl and be sure to pour extra sauce over the top. Don't forget the bread!