Jon Skarin's Champagne Chicken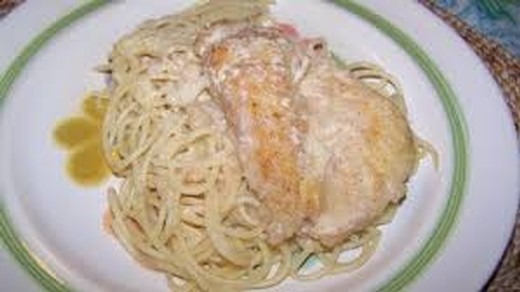 Recipe Date:
January 18, 2021
Measurements:
Imperial (US)
Ingredients
4 boneless, skinless chicken breasts
4 tbsps salted butter, divided
1 cup Vidalia onion, diced
3 cloves garlic, minced
3/4 cup Champagne or sparkling wine
3/4 cup chicken broth - low sodium
1/3 cup fresh lemon juice
1 1/4 cups heavy whipping cream
2 tbsps fresh chives, chopped for garnish
1 Angel hair pasta
Directions
Season the chicken with salt & pepper.
In a large skillet over medium heat, melt 2 tablespoons of butter and add the olive oil.
When the butter and oil are hot and beginning to brown, add the chicken and cook for 3 minutes per side.
Remove chicken from pan, and put in a warm (180 degree) oven covered in aluminum foil.
Add remaining 2 tablespoons of butter to the pan. Saute onion until soft and translucent. Add garlic and cook for 1-2 minutes, stirring frequently.
Deglaze pan with champagne, whisking/scraping brown bits from bottom of pan. Whisk-in chicken broth and lemon juice.
Cook until reduced and mixture forms a thick glaze.
Whisk-in heavy cream, bring to a boil, reduce heat and simmer for 8 minutes until sauce thickens.
Cook angel hair pasta according to box.
Return chicken to pan for 1-2 minutes per side to cook through.
Serve chicken and sauce over angel hair. Garnish with fresh chives.
Salt & pepper to taste