Dad's Caesar Salad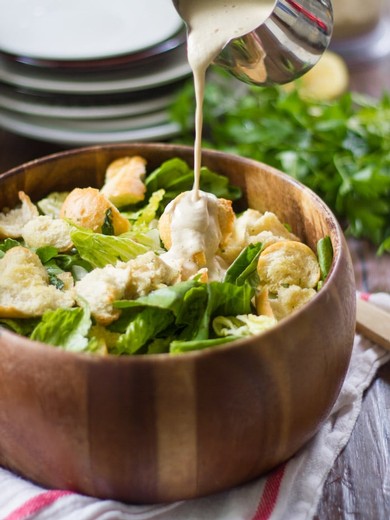 Recipe Date:
January 11, 2019
Measurements:
Imperial (US)
Ingredients
CROUTONS
2 tbsps butter
1 split top bread loaf, cut in 3/4 inch cubes
3 garlic cloves, minced
1 large head Romaine Lettuce, rinsed and chopped
DRESSING
3/4 cup olive oil
2 tsps fresh ground pepper
4 medium sized garlic cloves, minced
3/4 tsp dry mustard
1 1/2 cups grated Parmesan cheese
1 tsp Worcestershire sauce
1 extra large pasteurized egg
1/2 cup fresh lemon juice
1/2 tsp salt
Anchovy paste, to taste
Directions
Suggested Pairing- Glunz Family Winery Viognier
Pre-heat oven to 325F
Croutons: These are a pain to make, so you may want to consider making extra and freeze them.
Place the cut bread on a sided cookie sheet. Place sheet in the oven and bake for approximately 15 minutes, stirring every 5 minutes. The goal is to dry the bread. They should be a golden brown when done. Remove from oven and set aside.
In a small saucepan, melt the butter and add 3 cloves of minced garlic. Remove from heat and let the garlic steep in the butter while you make the dressing.
Dressing: Whisk all the dressing ingredients well. Cover and refrigerate until ready to use. Note: if you do not have pasteurized eggs, you will need to coddle the eggs. To coddle: boil water in sauce pan then add the egg for 1 minute and remove to cold water. Crack the egg open and spoon out any white attacked to the shell.
Back to the croutons: Place the croutons in a frying pan over medium low heat, drizzle with the garlic butter. Try to get some of the garlic butter on all the croutons. If it looks dry, add a little olive oil. Heating them for 15 minutes will help toast then a bit more and help spread the garlic butter. Stir Frequently during this time.
Put the chilled lettuce in a large salad bowl, and then spoon on the dressing and mix going down the sides to the bottom up. Take care not to bruise the lettuce. Add more dressing and repeat the mixing process until you fell the lettuce is coated but not soaked.
Add the croutons and serve. Offer guest a pepper grinder, as they may like extra pepper.