Vin Glogg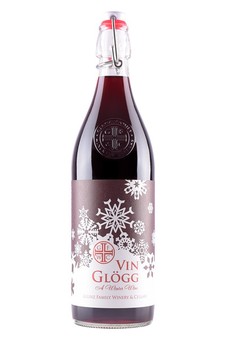 Our Vin Glogg is the ultimate winter warmer. It is a blend of half dry red wine and half port blended together with spices of cinnamon, cardamon and orange peel. Our Vin Glogg is intended to be served heated. This will warm you up from the inside out.
Product Reviews
Alessandra
(Nov 5, 2015 at 8:24 PM)
I loved the combination of the slightly dry wine with the orange and spices, just the thing on a cold day. I had it both at room temperature and warmed/mulled slightly, and found it excellent both ways!
Dee
(Nov 21, 2015 at 3:38 PM)
A great seasonal wine for the holidays and throughout the winter.
Jamie
(Jan 24, 2016 at 1:32 PM)
This is my absolute favorite winter wine. The flavor is slightly sweet, with notes of orange and spices. I bring this with me in a coffee thermos for ice fishing trips! An excellent wine!
Pam urban
(Feb 24, 2016 at 8:08 PM)
Love this wine, perfect on a cold fall or winter night.
Elsa
(Dec 20, 2016 at 7:49 PM)
This is the closest recipe to my grandfather's I have ever had. It gave me goose bumps the first time I tasted it. God Yul !
Dawn
(Feb 22, 2017 at 7:31 PM)
The Vin is a Win! Look forward to finding this product every year; finishing off a bottle now. Even if 60 degrees in February, I enjoy it!
Kelly
(Apr 8, 2017 at 12:48 PM)
This is the best thing I've ever had.
Tina Seldsdon
(Sep 3, 2017 at 9:00 PM)
My bottle of Vin Glogg is my very best friend. Wintertime, Summertime, Breakfastime, wow, Vin Glogg seems like the only constant in my life, am I right ladies?
Merry
(Dec 1, 2017 at 4:06 PM)
I used to drink Irish Cream on the rocks in December to get into the Christmas spirit. However, I now drink Vin Glogg and drink it warm during cold nights. It is absolutely the best!!!!
Erik
(Dec 3, 2017 at 8:04 AM)
We purchased this at the Gainesville, VA, Wegmans. I grew up in Sweden and have had many varieties of glogg. This is a very authentic and tasty product. Outstanding!
Marlon Conway
(Dec 4, 2017 at 3:48 PM)
Warmed this great product in a small pot and served during Thanksgiving dinner. Wow! Sampled it warmed at Whole Foods.
Lindsay
(Dec 26, 2017 at 5:58 PM)
Warmed it in my little crockpot - SO GOOD. Had it on Christmas and am going to order more now. Too good to not have stocked in my house.
Christine
(Dec 28, 2017 at 4:20 PM)
LOVE, LOVE, LOVE this wine. Perfect for a chilly night! We warm with a splash of brandy...oh my. I am going to stock up on this because I want it all year long!!
Tracey
(Jan 3, 2018 at 2:56 PM)
The BEST Glogg I have ever had!! Would love to see this in more stores, as it can be difficult to find!
Judy hengcharoen
(Mar 24, 2018 at 9:27 PM)
Love this wine, remind me of Christmas market in Germany.
Mats
(Nov 20, 2018 at 9:07 PM)
Glögg just like in Sweden, I am a Swede living in California since 1997. This Glögg makes me feel at home. Heat it up and add raisins and peeled sliced almonds. Perfect around Christmas!
Michelle
(Dec 2, 2018 at 3:02 PM)
This wine will get you in the holiday season and warm you up from the cold. It is my favorite wine during this holiday season, and I've bought bottle after bottle just because it's such a great wine to settle in with at the end of an evening. Get this for your holidays!
Traci Skala
(Dec 20, 2018 at 10:45 AM)
This is Christmas in a wine glass!! I has been a hit at parties and for gifts that last couple of years. It just warms you up and gets me into the holiday spirit. I agree with the other reviewers that it is hard to find though.
Janine Putzer
(Jan 8, 2019 at 11:36 AM)
Everything about this wine is perfect. Add a little brandy and heat it on the stove and it really warms the soul. Feels like I'm in a chalet with a cozy blanket and a roaring fire.
Hillary Holwell
(Jan 12, 2019 at 5:21 PM)
This is the most wonderful wine/port combo I have ever tasted. It is like a mulled wine without having to heat it up. I absolutely adore it. I took a chance on it from Nugget Market. I'm thoroughly impressed. Any way I can order a case????
Lori Gordines
(Jan 13, 2019 at 6:50 PM)
I have always been afraid of warm wine. All the ones in the past were sweet and not good. I served this at my holiday party and it was a hit. But not without coaxing the guest to drink.
Heather & Jim
(Feb 19, 2019 at 7:31 PM)
This is my all time favorite winter wine! A small glass heated up is just the best on a cold afternoon or evening. We usually buy a case to split with our friends on our visits.
julia sullivan
(Feb 27, 2019 at 12:10 PM)
A close friend gave me a gift of Vin Glogg a few months ago and thinking it was not really for average consumption it sat for awhile. Then, one night, I decided to try it. Warm, nothing added. Lovely!!!! Then I decided to see what it was like not warmed and it was lovely. Then I decided over ice and it was spectacular. Sooo, this wine is just wonderful, spicy and most refreshing. Not with a meal. Just by itself is enough to enjoy. Thank y ou Glunz family and my friend.
Melanie Richards
(Dec 15, 2020 at 2:47 PM)
Excellent and amazing holiday gift from a dear friend who sent smiles across the miles. I am about to order a case and pay it forward!
Leanne
(Dec 24, 2020 at 6:00 PM)
Bought it for my German husband so he didn't miss the Weihnachtsmarkt (Christmas Markets). It's excellent and made him feel right at home! We love this!
Mary
(Dec 31, 2020 at 4:44 PM)
The first sip brought back memories of evenings drinking mulled wine after a day of skiing in northern Michigan.
Steve
(Jan 11, 2021 at 3:58 PM)
We love this wine. The combination of port and red wine along with the spices is perfect on cold winters night. We will be buying it by the case from now on.
Jocelyn Winston
(Feb 6, 2021 at 4:49 AM)
This wine is always a staple in my home. My cozy bedtime wine
Marcia
(Aug 6, 2021 at 10:03 AM)
I am Swedish. My father used to make this at Christmas time and taught me how to make it. While I still know how to make it I have purchased this for the past few years. It is excellent and so convenient at the busy holiday times.
KoljaginIrrag
(Oct 12, 2021 at 12:31 PM)
https://graph.org/napisanie-kursovyh-na-zakaz-09-29-4 решение задач Как сделать заказ?
Для заказа работы вам необходимо зарегистрироваться на нашем сайте. Регистрация займет не более одной минуты, НО взамен вы получите удобный кабинет для мониторинга своих заказов, общения с менеджером/автором.
Как оплатить?
Заказ можно оплатить как онлайн в личном кабинете, так и переводом средств на банковскую карту через платежные терминалы.
Как быстро обработают мою заявку?
Наши операторы находятся онлайн с 9 утра до 18:00, мы стараемся обрабатывать все заявки не более чем за 30 минут. Но в некоторых случаях оценка работы, может занять длительное время.
Вы вносите исправления?
Да, конечно. Мы БЕСПЛАТНО исправляем все замечания согласно задания. ***Мы не вносим бесплатно правки, если после согласования и выполнения работы изменились изначальные условия задания.
Вы выполняете технические дисциплины?
Да, мы выполняем весь спектр технических дисциплин. https://graph.org/vypolnenie-kontrolnyh-rabot-09-29-3 заказать решение задач @tele
Il'jushinych
(Oct 15, 2021 at 5:18 AM)
https://torgovaya.xyz/kley-svarka Клей-сварка Алмаз Клей-сварка по японской технологии: крепеж, герметик, "холодная сварка"! Двухкомпонентный клей скрепляет любые поверхности: металл, камень, пластик и др. Затвердевает так, что не стирается, не режется, абсолютно водонепроницаемый, ремонтирует любую поломку, скол или трещину. https://torgovaya.xyz/kley-svarka клей-сварка movies