Mission Angelica
93 pts Wine Enthusiast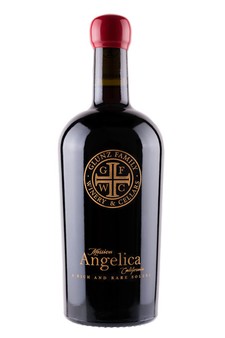 This is truly a remarkable wine. It has aged in oak for an average of 25 years. On the pallet it is loaded with butterscotch and maple syrup flavors and balanced out with a touch of acidity.
Product Reviews
Wallace Becker
(Mar 3, 2015 at 1:32 PM)
Loved this wine, excellent flavor
Roxane
(Dec 27, 2016 at 4:57 PM)
A cross between cognac and port without the burn. Carmel, rasin and butterscotch. Delicious sipper by an open fire.
Erika Lupe
(Dec 30, 2016 at 6:55 PM)
We had the most awesome experience at the tasting room with the owners and their Bernese Mountain Dog. My husband and I fell in love with the Angelica. We ordered a few bottles last week and literally got them 2 days after we placed the order. Amazing winery and incredible people! Thank you!
Milt
(Jun 5, 2017 at 1:13 PM)
Five Stars is not enough, it's at least six. After a full day of tasting across Paso R we finished at Glunz. Angelica was my last tasting and it totally blew away everything I'd tasted the entire day. Fantastic. Will be a grand finish to any dinner with a bit of salty chocolate or some Stilton Cheese! Wow
Heather & Jim
(Feb 19, 2019 at 7:27 PM)
Forgot how amazing this is! We had a couple of bottles tucked away so had a little pour tonight - delicious! Then reading the story of it and the solera aging process made it even more amazing! 👍
Edwardo Hernandez
(Oct 15, 2020 at 7:25 PM)
The wife and I had a taste of this during the wine tasting Glunz Winery hosts. After our first whiff we weren't sure what to expect but as soon as we took out first sip we were completely blown away! The perfect sipper to finish off a great Dinner (maybe even great poured over some Frozen Custard), Highly recommended!
Eugenia Brown
(Nov 16, 2020 at 3:30 AM)
I tried this wine for the first time over the weekend and I must say this is by far the best port wine I have had so far. This wine was simply delicious. I will have to keep a bottle on hand at all times!
Emery Mammothlover
(Dec 14, 2020 at 10:18 PM)
My friend is a wine club member and have gotten to know their wines pretty well. This is an AMAZING dessert wine, pairs well with hard cheeses and of course all the other traditional desserts. I've bought a case on a recent sale and give it as gifts, addicting many friends! Thanks and keep it flowing!