De la Costa White Sangria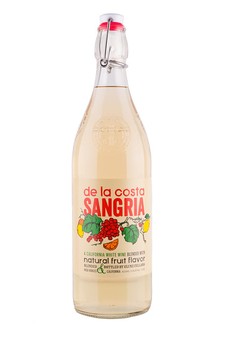 We use mostly Sauvignon Blanc for our white Sangria. It is bursting with ripe citrus flavors and a bit of sweetness to balance it out.
Product Reviews
Alessandra
(Nov 5, 2015 at 8:25 PM)
Loved this sweet and fruity sangria with chicken, will definitely buy again!
Jenney
(Jul 14, 2016 at 10:19 PM)
I got this on a whim at our local Piggly Wiggly in Kewaskum, WI... I love it! So fresh and fruity and lively! I also love the bottles because I brew my own kombucha, and I can reuse these bottles...It's cheaper than buying the clamp top bottles alone....and I get to enjoy a wonderful wine!