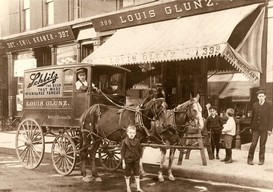 Welcome to Glunz Family Winery & Cellars
The Glunz family story started in 1871 when Louis Glunz, age 17, left his country of Germany in pursuit of the American dream. Louis arrived in Ellis Island that year with friends Oscar Meyer and Theo Koshswersmill. The three moved from city to city in search of work until they arrived in the boomtown of Chicago in 1872. The American Dream was realized in 1888, with a business loan from Charles Wacker, when Louis Glunz was able to set up a shop as a wine, beer and spirit merchant on Wells Street and Division Street.
In 1992, the third generation and forth generation of the Glunz family opened their winery specializing in small batched fortified wines. Today, the winery is located on 40 acres in the rolling hills of Paso Robles, California. To read more on the
Glunz family click here.