Mission Angelica
93 pts Wine Enthusiast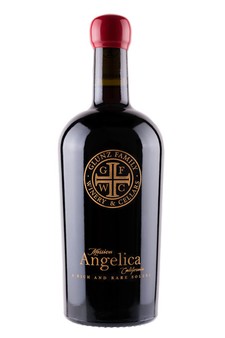 This is truly a remarkable wine. It has aged in oak for an average of 25 years. On the pallet it is loaded with butterscotch and maple syrup flavors and balanced out with a touch of acidity.
Product Reviews
Wallace Becker
(Mar 3, 2015 at 1:32 PM)
Loved this wine, excellent flavor
Roxane
(Dec 27, 2016 at 4:57 PM)
A cross between cognac and port without the burn. Carmel, rasin and butterscotch. Delicious sipper by an open fire.
Erika Lupe
(Dec 30, 2016 at 6:55 PM)
We had the most awesome experience at the tasting room with the owners and their Bernese Mountain Dog. My husband and I fell in love with the Angelica. We ordered a few bottles last week and literally got them 2 days after we placed the order. Amazing winery and incredible people! Thank you!
Cordycepskapsulnet
(May 7, 2017 at 8:43 PM)
this is good product for alternative medicine
Milt
(Jun 5, 2017 at 1:13 PM)
Five Stars is not enough, it's at least six. After a full day of tasting across Paso R we finished at Glunz. Angelica was my last tasting and it totally blew away everything I'd tasted the entire day. Fantastic. Will be a grand finish to any dinner with a bit of salty chocolate or some Stilton Cheese! Wow
Heather & Jim
(Feb 19, 2019 at 7:27 PM)
Forgot how amazing this is! We had a couple of bottles tucked away so had a little pour tonight - delicious! Then reading the story of it and the solera aging process made it even more amazing! 👍